It is definitely not easy to update a Camper if you have never done it before, because you don't really know where and how to start.
And of course you don't want to mess anything up either by using the wrong material.
You don't want to update everything, but you want to make the inside of your RV nicer, cozier, brighter, prettier.
Actually anything, because all of these browns are not working for you.
You feel so lost with your camper remodel, because you don't know where to start?
Let's face it, there is nothing more frustrating than looking at all these beautifully updated RVs only to feel like you will never be able to do this on your own.
Maybe you have even tried painting or decorating?
And yet it is not quite working.
Other people make it look easy updating an RV. But for you it's been anything but easy.
You thought that the hard part was going to paint, but as it turns out you picked the wrong paint color.
And now you feel you must be missing something.
You are not alone. If you haven't updated an RV before, how should you know what to do?
The truth is that having a fresh and bright looking RV is a game changer, one that will make you feel so much better and happier while on the road.
The problem? Not knowing what colors will work, where to start, how to do it and which material to use often makes it hard finding the time to put the work in.
But what if there was a way to make sure you got it right?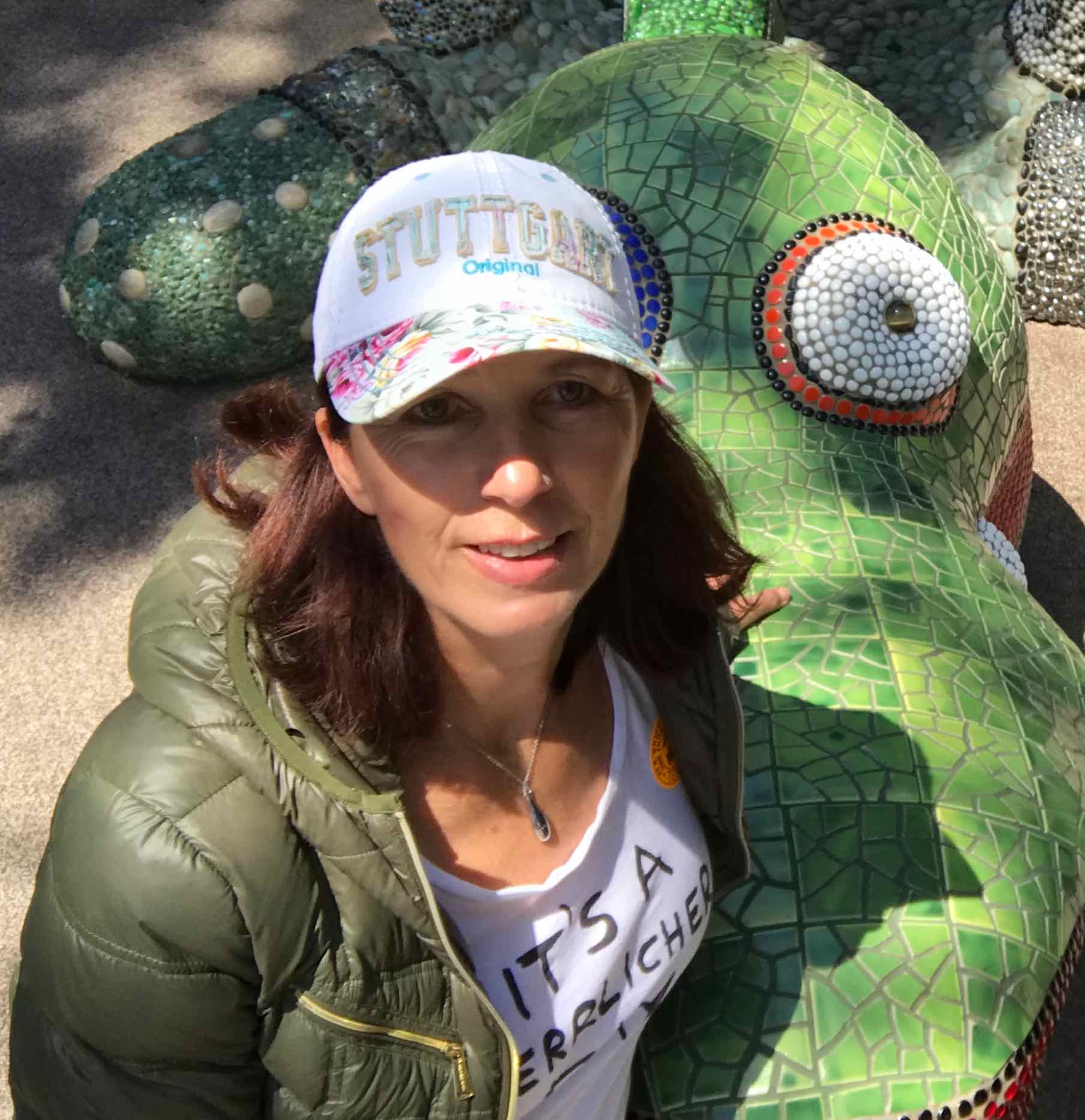 Hi, I am Conny
and I want to help you to remodel your dated looking camper once and for all!
I am an interior designer and updated a lot of houses and apartments. But then, about 4 years ago we bought our first used
Travel Trailer.
It was in pretty good shape but the inside looked so daunting. Beige walls, brown floors, brown cabinets, brown sofa and bed. Not very inviting.
So I started remodeling it, didn't really know what to do and where to start, what the best material would be to use, but with some trial and many errors I figured it out.
In the meantime I have remodeled many more Campers and that is why I want to share all the information you need to get started with your own remodel.


Imagine knowing what to do with your own RV and being able to actually do it in a very short time.
Here is what it would look like:
Knowing exactly what colors to use
Knowing exactly where to start
Knowing exactly what material to get
Knowing exactly how to do it all
Introducing
THE BEGINNER COURSE
SIMPLE STEPS TO UPDATE A CAMPER IN A WEEK
This step-by-step guide is easy to follow, designed to help you to know what to do and how to do it in the shortest amount of time.
The step-by-step guide was originally created to help women who have never updated an RV achieve a beautiful transformation because it is designed to follow each and every step and actually see how to do it.
If you are a new RV owner, or if you just want to update your dated looking RV, this is an opportunity that I promise you will not want to miss.
What is so different about the videos?
You can follow along with me on my remodel and
actually see all the steps you need to take.
Did you start your remodel just to give up because the paint didn't stick well, you couldn't decide on a backsplash and you were just not sure what to do with these floors?
You can follow along and actually see how to do it in the videos. You can watch every video as often as possible. You can also email me if you have questions. You are not alone - I am right here with you. So no need to be scared - you can do it.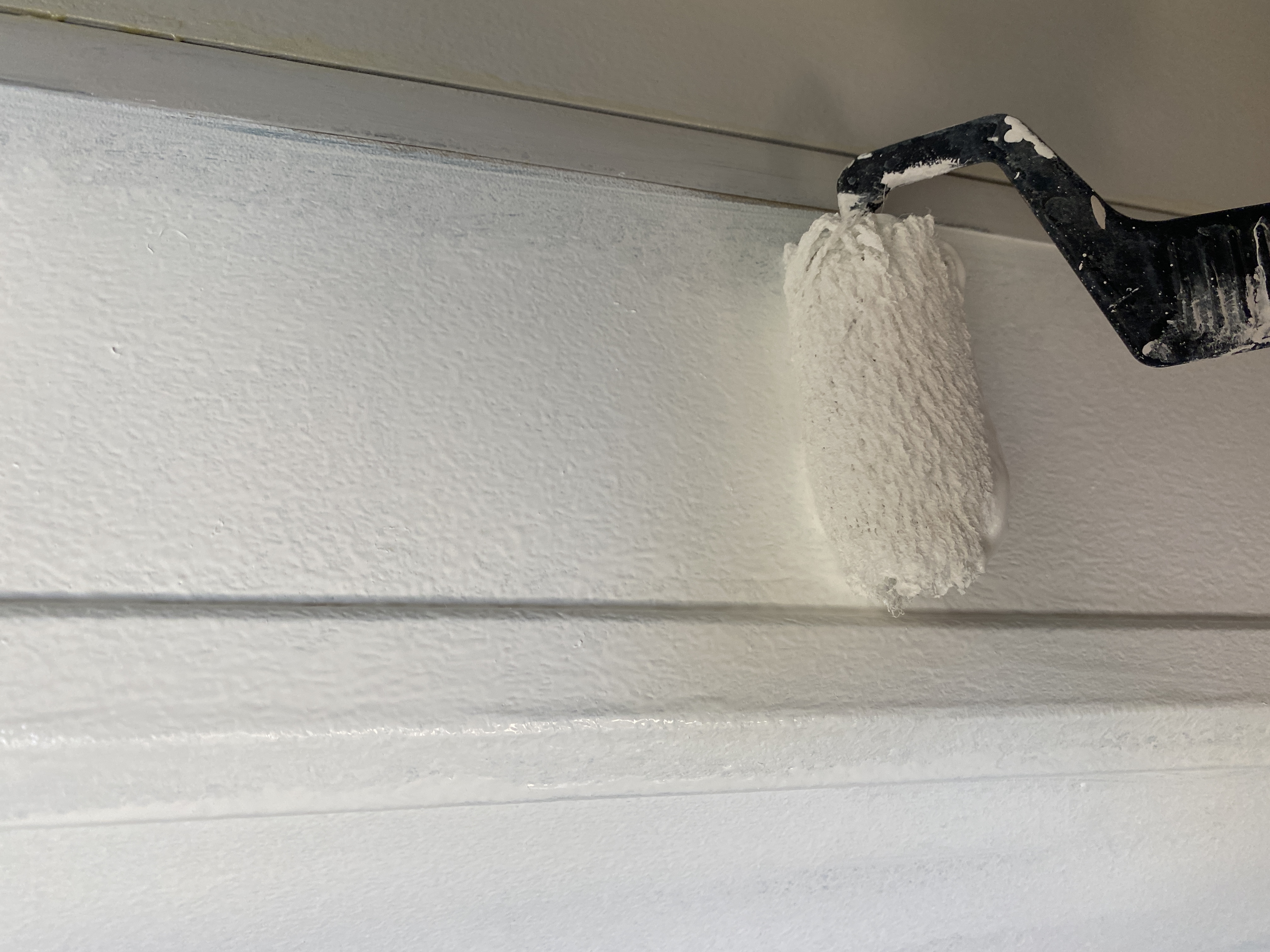 Learn how to choose the right wall color and how to paint the walls. Know what material to use so it will stay on the walls.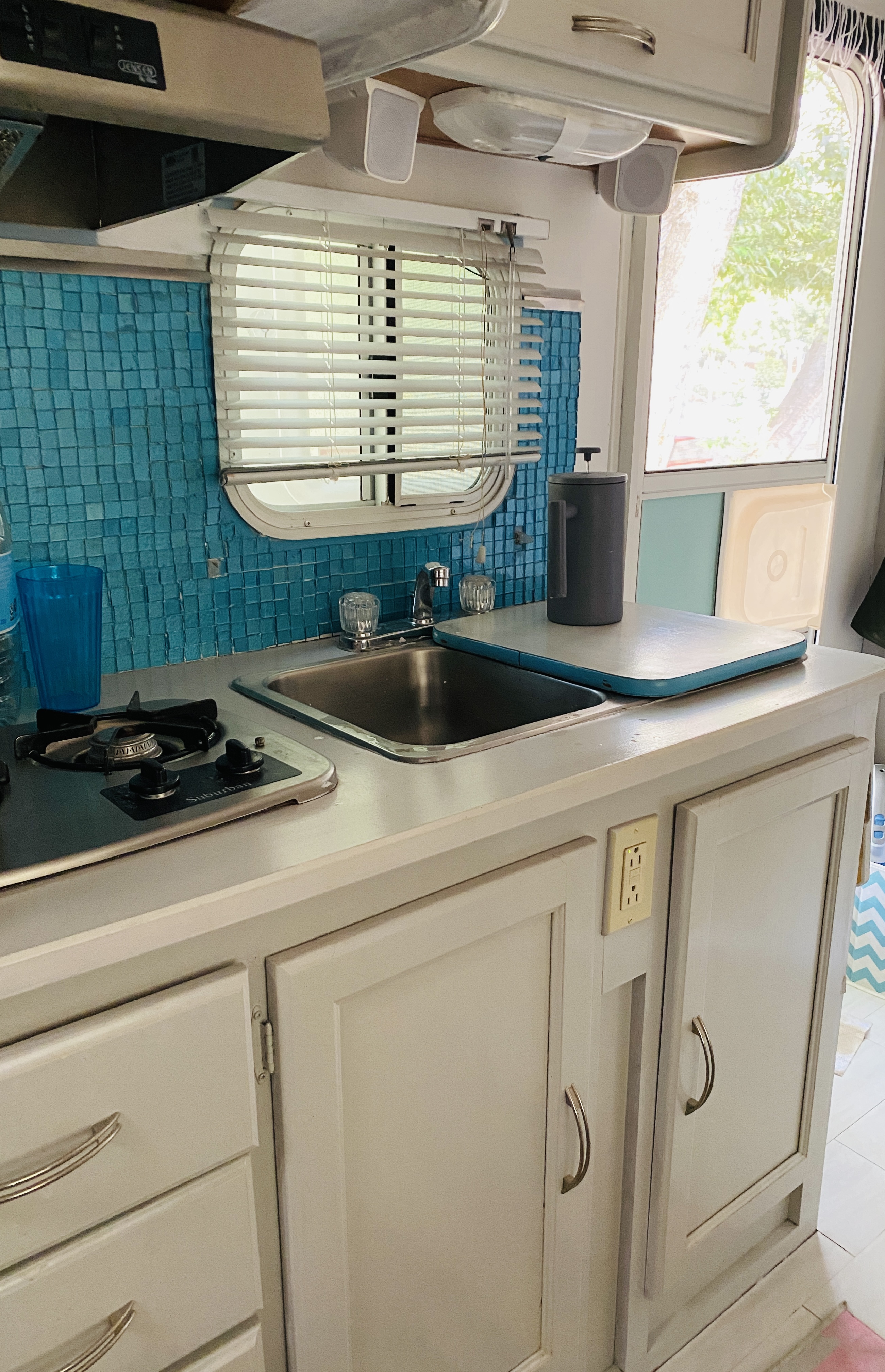 Know what material to pick if you want to paint the cabinets and actually see how to do it. What backsplash should you use and how do you apply it.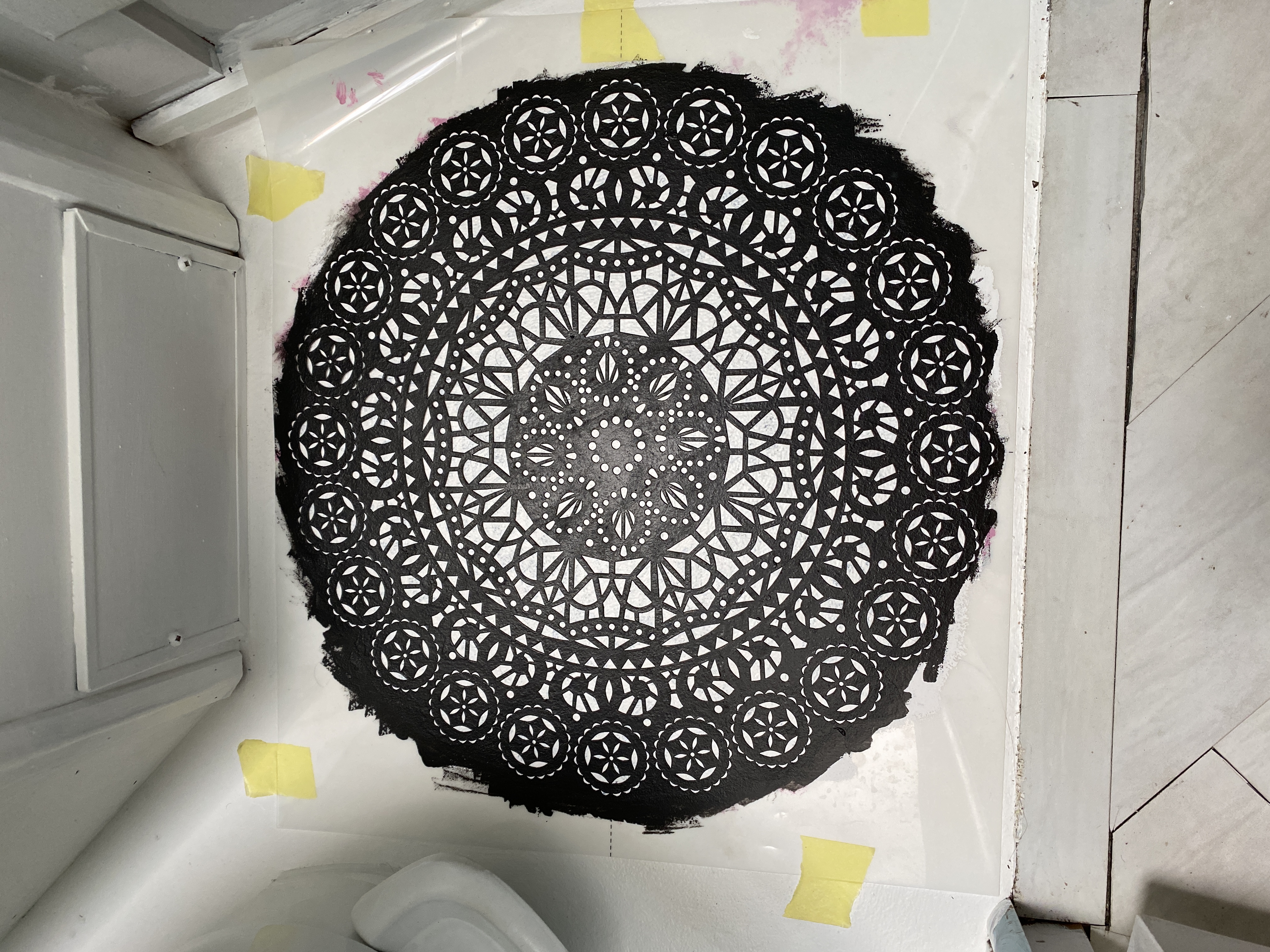 Know what to do with the floor. Do you want to paint the linoleum or add peel and stick tiles. Keep the carpet and just add a rug?
How to update your camper in just 7 days
Come inside my camper and see how it looks after the remodel.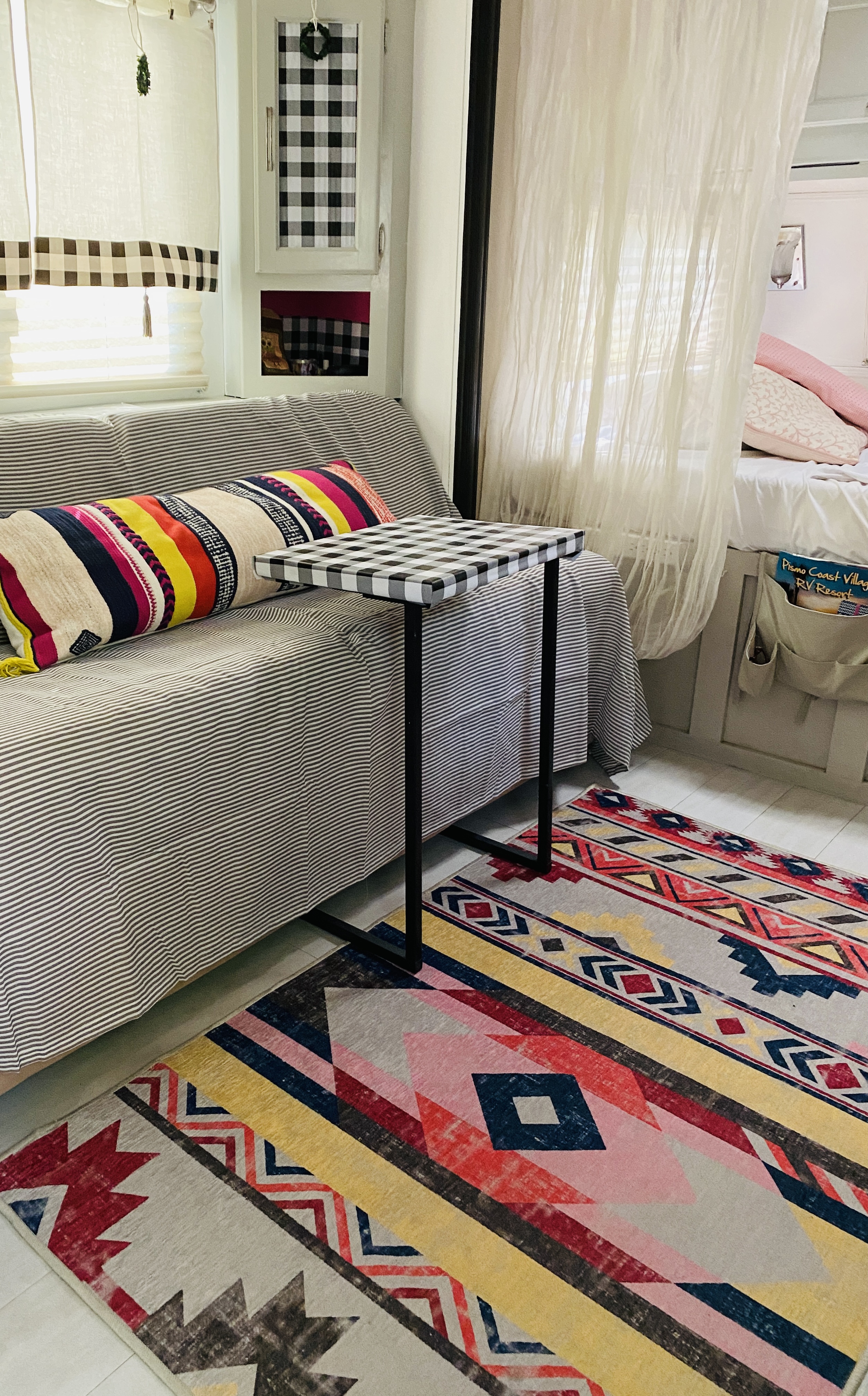 You can update the dated look of your camper in a couple of days if you want to
Follow me and we do all the steps you need to take to update your RV together.
Select your color scheme, get the material and then we start remodeling one day after the other.
You will be surprised how a little paint and a couple of decorating changes will make your RV look so much better.
And above all you will feel so much better too, because you are going to love your new environment.
Trust me, you can do this!
We are NOT tearing out the dinette or the bathroom, we are updating the furniture you have right now.
Therefore you won't spend a lot of money, because we are keeping all the furniture.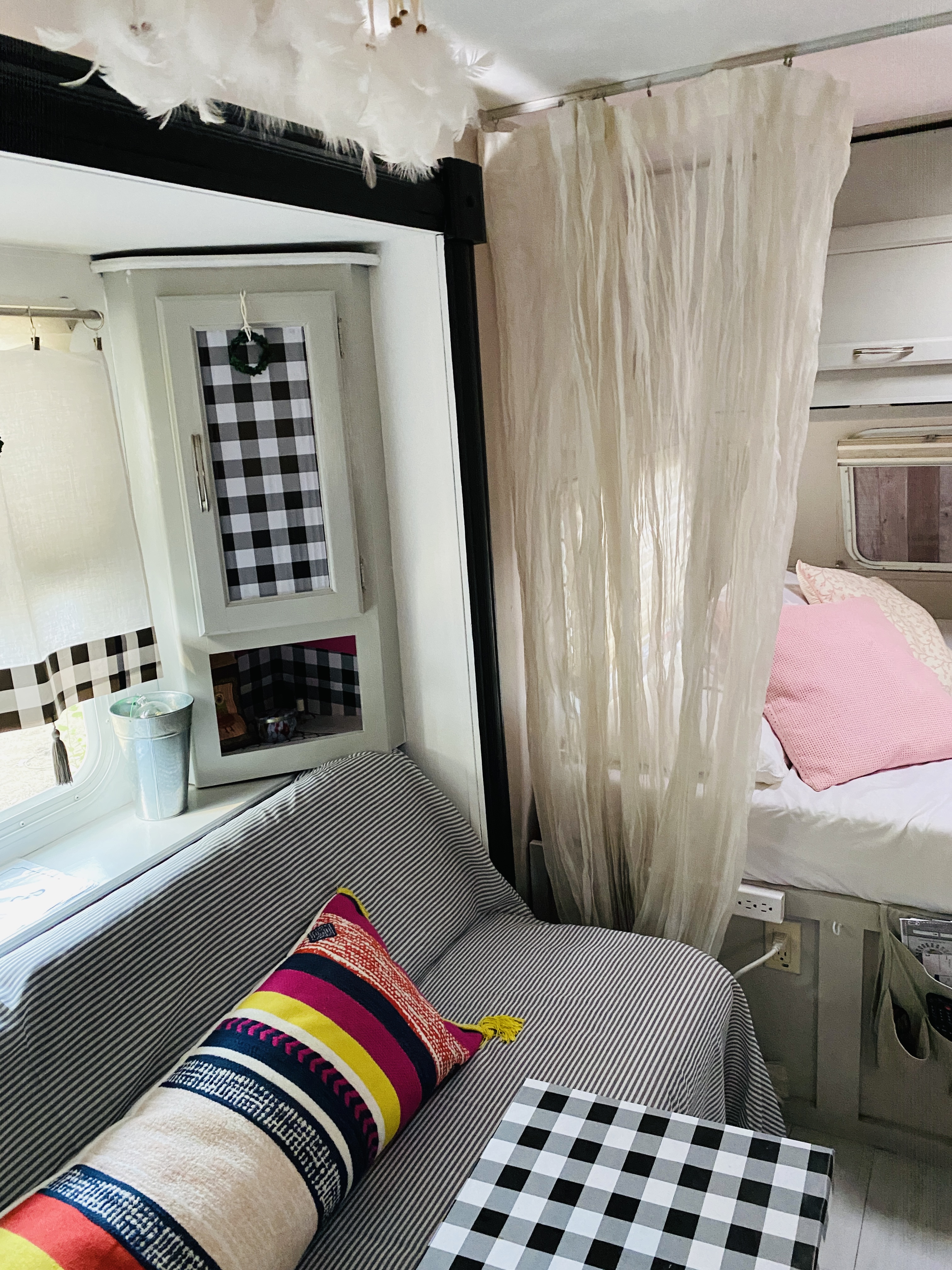 I show you how to paint the interior of a camper and the dark and dull atmosphere is gone immediately.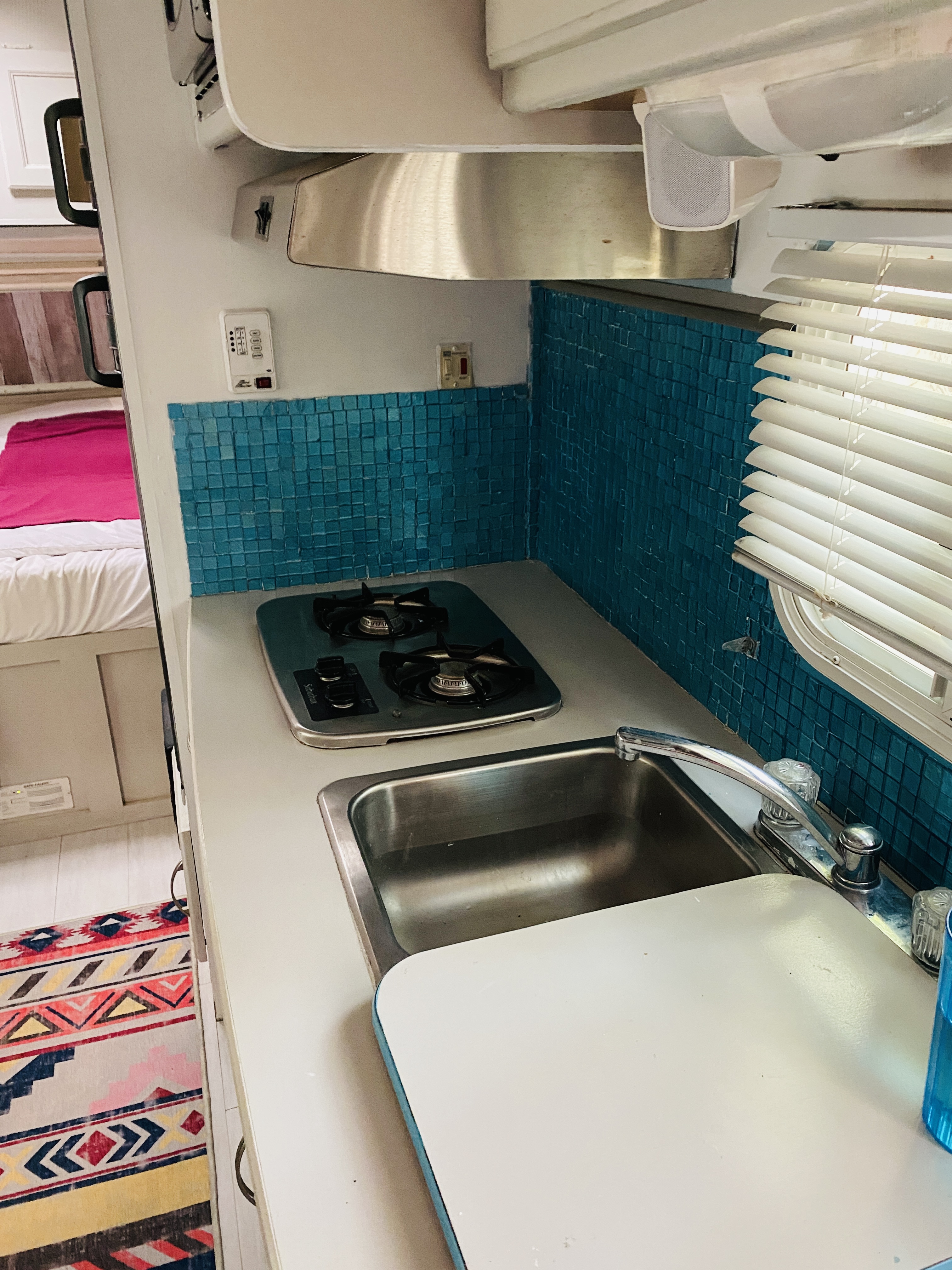 Add a colorful backsplash
Use a peel and stick backsplash or add wallpaper - either way it will look so much better than before.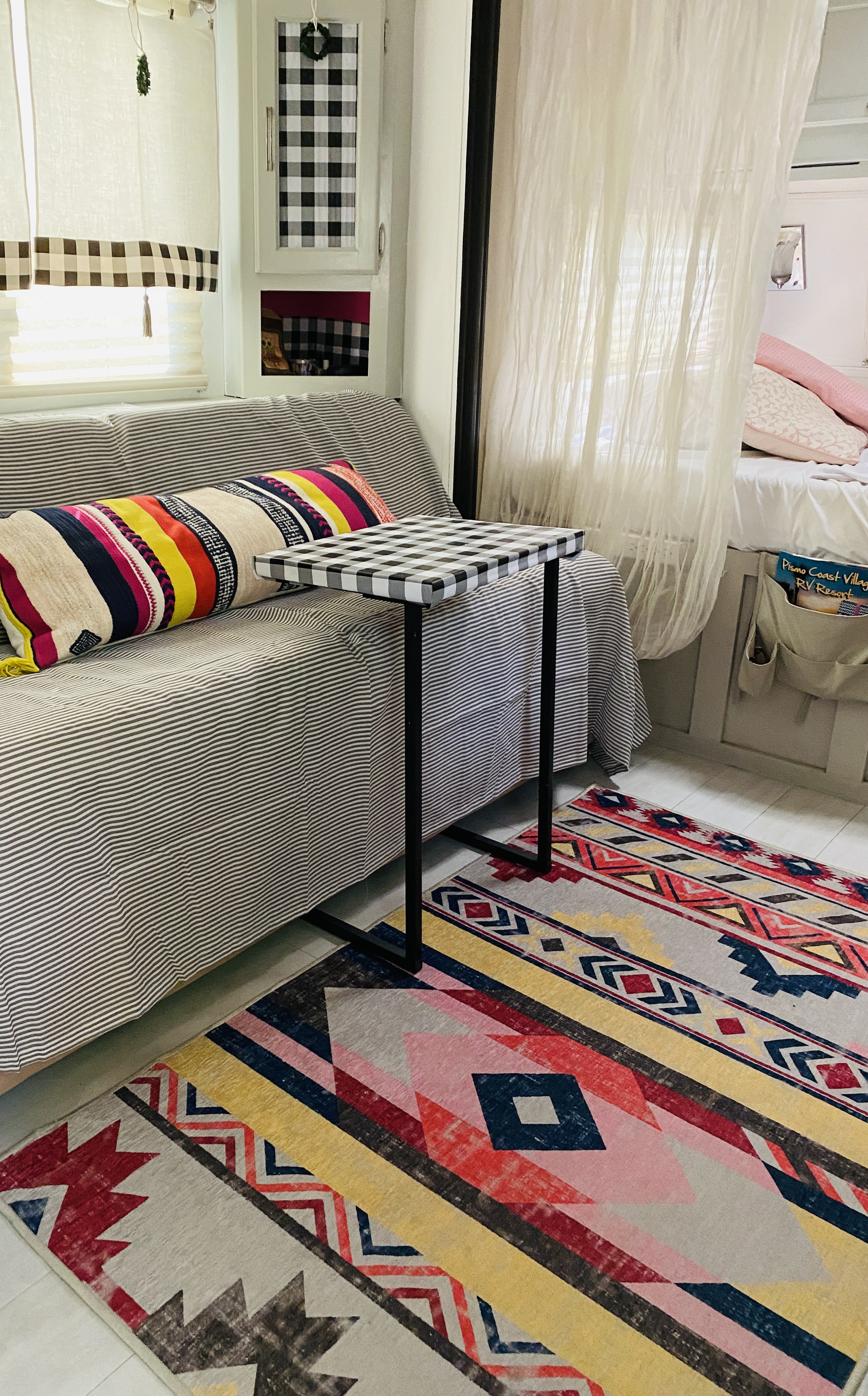 Pick the right color scheme and a camper can be updated pretty easily.
HERE IS WHAT'S INCLUDED...
Get all the tools you need to make your dated looking RV fresh and bright again.
When you purchase the beginner course - simple steps to update a camper - , you will have instant access to all the tools you need to start working.
Our proven process provides a step-by-step plan for how to get the look inside your RV, so you'll never wonder what your next step should be.
You choose a color scheme from the already made for you mood boards (or use your own color scheme) and start getting the right material with the provided links.
Knowing what colors work together is the hardest decision, everything that comes after this is fun and so exciting to do.
Get rid of a brown and beige interior and start fresh with a happy and bright look.
MY GUARANTEE
Should you not be satisfied with the course you will get your money back. You just need to email me within 15 days after purchase and I refund you in case you are not satisfied.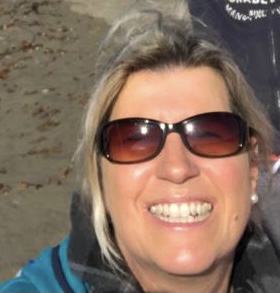 This is what Silvia had to say after she took the video course:
"I would have never painted my cabinets without seeing what I have to do, I was scared to mess it up. Now my cabinets look so much better and I am so proud of myself. I love that I got all the material links for the paint I needed. 
I am considering updating the cabinets in my house now too.
I am really happy with how my RV looks with the painted cabinets and new backsplash. So much better than before and I am not stopping now". 
Is this step-by-step video course right for me?
Questions and Answers:
I have never updated anything before. Will it work for me? Can I do it?
Yes, you can. I explain everything you need to know in simple steps and you can watch me doing it on video.
How does the Step-by-Step video course work?
Pretty easy. I explain on video how to paint walls, cabinets and floors, how to add peel and stick wallpaper, so you can do this too. You can watch the steps as often as you want to. You will also get the information you need in a pdf. you can print out and follow along while you do the work.
Who is this course for?
Mainly for women and men who have not done a lot of updating before and want to get started with their first RV interior remodel.
Who is this course not for?
If you have done a lot of remodeling and you know how to paint, add wallpaper and decorate an RV, you don't need this course.
Is this a subscription?
No, it is a one time sale.
Can I access this course from my phone or tablet too?
Yes, you definitely can.
Do you have a refund policy?
This is an online course and can not be returned. However, if you feel this course has not been of any value to you and you have no results at all, you will get your money back after 15 days of purchase. All I ask is that you provide evidence that you have put these methods into place in your RV.
What format is the content delivered in?
Video, images and text. You will have video instructions and step-by-step walkthroughs of every major topic.
Is there a time limit to complete this course?
There is no time limit to going through the content in this course. You can do it with me in 7 days (or shorter) or you do it at your own pace. Your access to the course doesn't expire.
Are there any upsells?
No, there are no upsells.
DO YOU HAVE ANY QUESTIONS?
Not sure if you can do it?
I know, a remodel can be challenging and quite a lot of work, I get it. But you can do one step after the other, just do the work according to your schedule.
And then it is done and you will be so proud of yourself because it will look amazing.
So don't hesitate any longer, you can do it.
See you in the course,
Conny
Testimonials about colorful designer
Tammy says: "Very helpful, thank you".
Katie says: "Awesome article, thanks for sharing".
Stefani says: "I love this! There's actually some really good ideas in this article."
Shelley says: "Great website! I spent the morning having coffee and reading through many of the articles."
Ray says: "Fantastic! I think we are heading in a good direction" after making some mood boards for his 5th wheel.
Jennifer wrote: "Thank you for all the wonderful ideas, the advice and "D" all the above. You are a blessing."
Stephanie wrote: "This is super - thank you
Marybeth wrote: " I love your new room! It looks like you have made a nice welcoming living space... good job."
Mark wrote: "Great resource...!!! Thank you so much".
Gayle wrote: "Thank you! This is a terrific list".
Skelly SC wrote: "This is amazing! Thank you for sharing".
Kristy S. wrote: "This is awesome. Thank you."
Helen V. wrote: "Thank you so much for all these tips."
and many more...